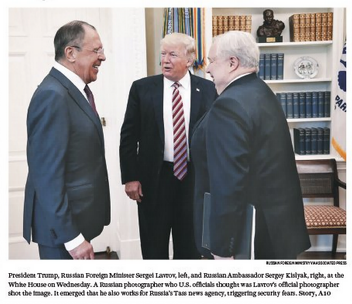 Previous Related Posts:
Trump Unhinged
Trump Faces Backlash for Firing Comey
Trump Fires Director Comey
#Russiagate Speculation Round-Up
Comey Hearing Connects Trump to Russia
Flynn Flap a Big Flop for Trump
~~~~~~~~~~~~~~~~~~~~~~~
When President Trump met with the Russian Ambassador and another Russian Operative in the Oval Office a few weeks ago, the big story at the time was that the American journalists were not allowed in the room.
But now the story has become something much worse and possibly world-shaking - while the Russians were there, Trump started bragging about U.S. intelligence on ISIS and let something slip that was so Top Secret that many in the government did not know about it, and some networks were told to hold back reporting it. Even more troubling, Trump's blabbing may have gotten the source of the information killed.
Trump advisers say they wouldn't be surprised: "he probably wanted to impress" Russians https://t.co/DfUhMQe6SH by @jdawsey1 @elianayjohnson

— Bradd Jaffy (@BraddJaffy) May 16, 2017
Trump sent General McMaster out twice to issue non-denial-denials on the issue, but in the end Trump himself admitted in a tweet that he had blurted out secret information. In 24 hours the story went from denial to acceptance as the norm. But there is nothing normal about this situation.
The story in one simple banner: "Trump defends disclosing classified info to Russians" 12 hours after sr. advisors call story "false" pic.twitter.com/8pN78UsVT7

— Jim Sciutto (@jimsciutto) May 16, 2017
Last seven days: pic.twitter.com/iA5Io6HgqA

— Dafna Linzer (@DafnaLinzer) May 16, 2017
WaPo reports Trump's team wanted "full transcript" of mtg w Russians ltd to small grp to contain intel leak. Sure sounds like there r tapes

— Julie Davis (@juliehdavis) May 15, 2017
WH comms staffers just put the TVs on super loud after we could hear yelling coming from room w/ Bannon, Spicer, Sanders

— Adrian Carrasquillo (@Carrasquillo) May 15, 2017
Trump gave highly classified intel to Russia, so Kushner yelled at ... the press secretary? https://t.co/RCFiKz8ULM pic.twitter.com/A7xs8KXftJ

— Mark Berman (@markberman) May 16, 2017
This quote from Senator Susan Collins tonight to reporters: ""Can we have a crisis-free day? That's all I'm asking."

— Carol Costello (@CarolCNN) May 15, 2017
Media from across the political spectrum, ranging from WaPo to Newsmax, report on a White House in total meltdown, spiraling out of control.

— Jon Cooper (@joncoopertweets) May 16, 2017
GOP Senator: White House In A 'Downward Spiral' https://t.co/6vWKmUmrl9

— Jon Cooper (@joncoopertweets) May 16, 2017
TRUMP, asked about classified info reports, says he had "very, very successful meeting" with Russian FMpic.twitter.com/nUGfLbvPSx

— Steve Kopack (@SteveKopack) May 16, 2017
@juliettekayyem "Breaches like this will get Americans killed." - Robert Baer, former CIA officer, also on CNN.

— Astead W. Herndon (@AsteadWH) May 15, 2017
McMaster: It was "wholly appropriate" for Trump to share intelligence with Russians https://t.co/PNFOTkXk51 pic.twitter.com/YIUkd2i5vj

— Los Angeles Times (@latimes) May 16, 2017
****McMaster says Trump wasn't briefed on the source of the information.****

— Maggie Haberman (@maggieNYT) May 16, 2017
This odd: 'president wasn't briefed' on sources and methods of intel gathering (?)

— Glenn Thrush (@GlennThrush) May 16, 2017
Takeaway from McMaster: Trump spontaneously decided to share classified intel w Russians. He didn't know where it came from at the time.

— Christina Wilkie (@christinawilkie) May 16, 2017
HR McMaster is sadly now added to the list of people who have humiliated themselves on national television to try to provide cover for Trump

— Brian Klaas (@brianklaas) May 16, 2017
LOST: The "integrity" of Gen McMaster. If found, please return to National Security Council asap. No questions asked.

— Ted Lieu (@tedlieu) May 16, 2017
@TimothyNoah1 Trying to decide whether Gen. McMaster has been 'Rosensteined' by Trump or it's self-inflicted. Either way, reputation now damaged.

— Allan Schlosser (@AllanSchlosser) May 16, 2017
Asked by @jonkarl whether Trump shared classified info with Russians, McMaster says "We don't say what's classified, what's not classified." pic.twitter.com/IvI6t8d5QL

— ABC News Politics (@ABCPolitics) May 16, 2017
Shorter McMaster: 1. It never happened. 2. OK, it happened, but wasn't a big deal. 3. OK, it was a big deal, but only b/c it leaked to press

— Timothy Noah (@TimothyNoah1) May 16, 2017
The new, Nixonian defense: If the president does it, then it is not inappropriate. https://t.co/qaHsb6kj56

— Josh Barro (@jbarro) May 16, 2017
Sen Burr says he has been waiting all morning to get a callback from the White House explaining the whole Oval sitch

— Erica Werner (@ericawerner) May 16, 2017
Blistering statement from McCain on Trump pic.twitter.com/n0YkAd1fhX

— Bradd Jaffy (@BraddJaffy) May 16, 2017
Why'd Trump share code-word secrets? He "is boastful, ignorant, and inclined to see the Russians as friends." https://t.co/NXLLOHpLXi

— Max Boot (@MaxBoot) May 16, 2017
Breaking News: Israel provided the intelligence that President Trump shared with Russia, officials said https://t.co/3vkJ0DRZsH

— The New York Times (@nytimes) May 16, 2017
Trump tells Russia Israeli intel on ISIS to brag. Russia press discloses intel revealed. ISIS knows who knew. Israeli source will be killed.

— Kurt Eichenwald (@kurteichenwald) May 16, 2017
"That person is likely dead." - @JulietteKayyem on CNN about source who infiltrated ISIS who the President (THE PRESIDENT) just compromised

— Astead W. Herndon (@AsteadWH) May 15, 2017
@realDonaldTrump Just so we're all on the same page: an allied informant is likely being tortured to death as we speak, thanks ONLY to Trump's big mouth

— Jules Suzdaltsev (@jules_su) May 16, 2017
And despite all of the public statements about the deep love they have for each other, Israel is going to stop sharing intel with the USA

— Pé Resists (@4everNeverTrump) May 16, 2017
Israeli reporter close to the gov saying:Trump sold our secrets. Expressed contempt to our holy cites.Insults our PM https://t.co/SxacLSD4Jl

— Nadav Pollak (@NadavPollak) May 16, 2017
Israel was the source of intelligence.
Russia allied to Syria.
Syria allied to Iran.
Hmmm.
Not good for Israel!https://t.co/QnQyNqaRT2

— Cornelia (@PaladinCornelia) May 16, 2017
#TBT https://t.co/1TF4wi6YDD pic.twitter.com/VJcs5EvO6k

— Eric Geller (@ericgeller) May 16, 2017
"Excuse me, where's the lobby?"

"I don't know but here is some classified information on ISIS" pic.twitter.com/CzLOqtVil9

— Dave Jorgenson (@davejorgenson) May 15, 2017
NEW VIDEO: After his breakdown in the Oval Office do even SOME Republicans realize Trump is dangerously unstable? pic.twitter.com/Kmbpalfted

— Keith Olbermann (@KeithOlbermann) May 16, 2017
Trump has options. Resignation. Impeachment. 25th Amendment-or maybe we can find someone willing to loan him a Japanese sword.

— Claude Taylor (@TrueFactsStated) May 16, 2017
Sources say White House staff members are beginning to talk openly about their increasing concerns that Trump shows signs of early dementia.

— Jon Cooper (@joncoopertweets) May 16, 2017
Watch: @11thhour puts together a helluva mashup of Cand Trump's criticism of Clinton's handling of classified info https://t.co/xiBe6xaW8Y

— Frank Thorp V (@frankthorp) May 16, 2017
Fears of leaving Trump alone in meetings with foreign leader #pjnet #trumprussia pic.twitter.com/vAwI7Tg2Uq

— chris zappone (@chrizap) May 16, 2017
Sad. Trump had a good run https://t.co/w40crIe1cN pic.twitter.com/XH51gCIKtw

— Brett LoGiurato (@BrettLoGiurato) May 16, 2017
Trump hasn't learned to not feed the bear,he needs a trip through Glacier Park! pic.twitter.com/YrhqhJ3acY

— Muckmaker (@RealMuckmaker) May 16, 2017
If Trump gave highly classified information to Russians without thinking twice, what in the world did he tell this gang in the oval office? pic.twitter.com/09VsCPm5xU

— Red T Raccoon (@RedTRaccoon) May 16, 2017
I remember how they attacked Obama because in the OVAL OFFICE he took off his suit jacket! Yeah, gotta watch what you do in there. Assholes.

— Bill Maher (@billmaher) May 16, 2017