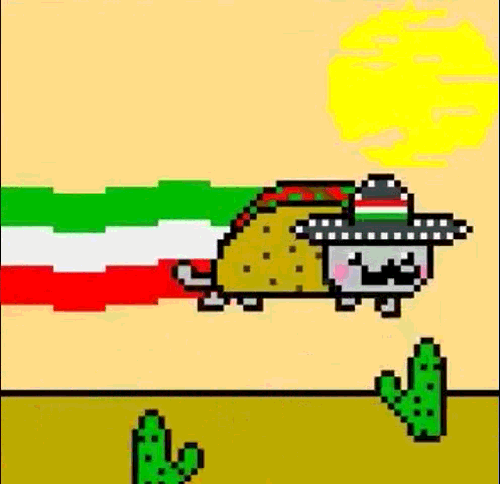 Previous Related Posts:
#TrumpTacoBowl for Cinco de Mayo
Trump Jumps the Shark with Facist Ideas
Trump Tosses Univision's Jorge Ramos Out
Anti-Immigrant Mob in Murrieta California
GOP Fearmongering About "Diseases" on the Border
Ann Coulter Rants that Immigrants Will Ruin GOP 2014
GOP ~ Painful Rebranding on Immigration 2013
Sheriff Joe Arpaio Arrests 6-yr-old Girl 2012
~~~~~~~~~~~~~~~~
This has been some week for the GOP. Trump went to Mexico and tried to look Presidential after calling them all rapists and murderers. And the erstwhile GOP candidate continues to frighten immigrants with his "round them up - force them out" rhetoric. Also one of Trump's few Hispanic spokespeople said we should be afraid, very afraid, of "Taco Trucks on Every Corner." Oooohhh - scary immigrants selling tacos!
Mexico will pay for the wall!

— Donald J. Trump (@realDonaldTrump) September 1, 2016
Great trip to Mexico today - wonderful leadership and high quality people! Look forward to our next meeting.

— Donald J. Trump (@realDonaldTrump) September 1, 2016
BREAKING: Pena Nieto says he told Trump that Mexico won't pay for border wall, contradicting Trump, who says it was not discussed.

— The Associated Press (@AP) August 31, 2016
— Random Pixels blog (@Random_Pixels) September 1, 2016
— Kyle Griffin (@kylegriffin1) August 31, 2016
The face you make when people have been calling you "Pendejo" all day and you finally learn what it means.

pic.twitter.com/2iRUooyyRQ

— Soy Juan Miller (@EveryTrumpFan) August 31, 2016
Here's the opening segment from tonight's midnight #Maddow: https://t.co/ybThbdjYKL

— Maddow Blog (@MaddowBlog) September 1, 2016
— Donald J. Trump (@realDonaldTrump) September 1, 2016
— Donald J. Trump (@realDonaldTrump) September 1, 2016
I hear Churchill had a nice turn of phrase, but Trump's immigration speech is the most magnificent speech ever given.

— Ann Coulter (@AnnCoulter) September 1, 2016


~~~~~~

#TacoTrucksOnEveryCorner


— YvonneWingettSanchez (@yvonnewingett) September 2, 2016
— Trevor Donovan (@TrevDon) September 2, 2016
— Bimmerella (@bimmerella) September 2, 2016
— Truth Teller (@TheTruth1011) September 2, 2016
— Pin Head (@PiercedSkull) September 2, 2016
— Brian Fallon (@brianefallon) September 2, 2016
— Shannon Watts (@shannonrwatts) September 2, 2016
— Jason Karsh (@jkarsh) September 2, 2016
— Texas Democrats (@texasdemocrats) September 2, 2016
— Gabe Ortíz (@TUSK81) September 2, 2016
Taco sales are the highest they've ever been today! It's official: tacos have won the election.

#TacoTrucksOnEveryCorner

— Amanda Renteria (@AmandaRenteria) September 3, 2016