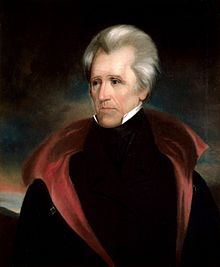 Previous Related Posts:
Trump Eats Cake While Bombs Fall
Sean Spicer Fails with Hitler Analogy
Trump Lies or Alternative Facts
Trump's Cuckoo Press Conference
Kellyanne Conway Invents Fake Bowling Green Massacre
~~~~~~~~~~~
As a Tennessean, I am ashamed that President Andrew Jackson is from my state. He was a slave-owner/racist who cruelly dispossessed the peaceful native Cherokee Indians when gold was discovered in North Georgia, killing hundreds as they were forced by the military to march to Oklahoma on the Trail of Tears. Jackson was just removed from the twenty-dollar bill because he is such a controversial figure.
But President Trump seems to glorify Jackson and see him as a soul-mate, which makes sense - a racist who in modern times is mainly associated with money. Trump would love to see his own face on currency, maybe with the much derided native Pocahontas on the other side? *Shudder*
From CNN
. . . in an interview with Washington Examiner columnist and CNN contributor Salena Zito.... The president asked: "Why was there the Civil War? Why could that one not have been worked out?"
Trump compared his 2016 presidential campaign to that of President Andrew Jackson, whose home and grave he visited earlier this year. "I mean, had Andrew Jackson been a little later you wouldn't have had the Civil War....he had a big heart. He was really angry that he saw what was happening with regard to the Civil War, he said 'There's no reason for this.'"

Twitter had a field day with this:
Trump called Andrew Jackson "a swashbuckler." The Cherokees called him "Indian killer." https://t.co/mcXVnlNZhF

— Washington Post (@washingtonpost) May 3, 2017
What a time to be alive...... pic.twitter.com/FV0HrR38m7

— Dusty (@DustinGiebel) May 1, 2017
Trump's answer on Andrew Jackson and the Civil War just earned him a Betsy DeVos scholarship.

— Tony Posnanski (@tonyposnanski) May 1, 2017
Trump on the Civil War reminds me of Jeff Spicoli explaining the American Revolution to Mr. Hand. https://t.co/JG03ZhtRVS

— Matt Taibbi (@mtaibbi) May 1, 2017
Please share my #TrumpTeachesHistory cartoon. @GottaLaff @MaggieJordanACN @laloalcaraz @co_rapunzel4 #AndrewJacksonWouldHave #andrewjackson pic.twitter.com/4aMOyvnxZb

— Ed Hall (@halltoons) May 3, 2017
Reporter yelling "what about the civil war comment" while @PressSec is walking out of briefing room really sums up Trump's presidency.

— Soviet Sergey (@SovietSergey) May 1, 2017
@maggieNYT What Trump calls a book, the rest of us call a paragraph. Trump read two paragraphs on Andrew Jackson, both about his hair.

— Lewis Paul Sims (@lewispaulsims) May 1, 2017
"Was it over when #AndrewJackson fought the Germans at Pearl Harbor? No, and it ain't over now." ~ #Trump #History pic.twitter.com/s8IXSOJiqN

— Jeanne K. (@SnarkAmendment) May 1, 2017
Tennesseans don't love Andrew Jackson. We are, in fact, slightly more woke than that.

— Ann Blake (@afblake) May 1, 2017
05/02 Mike Luckovich: The Jacksonian five. https://t.co/CBPv9suKQ0 pic.twitter.com/7UDJ4EYmil

— mike luckovich (@mluckovichajc) May 1, 2017
When the Civil War came, Andrew Jackson had been dead fifteen years. pic.twitter.com/dgkELxtRNk

— Kevin M. Kruse (@KevinMKruse) May 1, 2017
Omg! They found Trump's notes on Andrew Jackson. h/t @AAPsyc #TheResistance pic.twitter.com/pmytzlSXgO

— R. Saddler 📎 (@Politics_PR) May 2, 2017
MSNBC chyron for the win, fact checking Trump's "Andrew Jackson would've prevented the Civil War" claim pic.twitter.com/QGjMSu4Xle

— igorvolsky (@igorvolsky) May 2, 2017
Trump said Andrew Jackson "had a big heart" which is probably true because of infectious disease and heavy drinking in his youth

— CONWAY TWEETY (@edsbs) May 1, 2017
Clearly someone (likely Bannon or Giuliani) told Trump he is the modern day Andrew Jackson. But they only gave him a selective history.

— Joy Reid (@JoyAnnReid) May 2, 2017
Maybe he should ask Frederick Douglass, who is getting recognized more and more. https://t.co/mldnlw6DWp

— Christopher Hayes (@chrislhayes) May 1, 2017
Was Barack Obama secretly warned of the Bowling Green Massacre over a microwave by Andrew Jackson and Frederick Douglas? More on #Hannity.

— Alt. Sean Spicer (@AltUSPressSec) May 2, 2017
The Civil War started in 1776 when Andrew Jackson and Frederick Douglas got in a duel at Bowling Green.

— Alternative NOAA (@altNOAA) May 1, 2017
On a positive note, at least Trump does seem aware that Andrew Jackson is dead

— David Frum (@davidfrum) May 1, 2017
oh ffs, NYT thinks maybe Trump botched his Civil War comments b/c he was thinking abt The Nullification Crisis of 1832; pic.twitter.com/XwLnHcd280

— Eric Boehlert (@EricBoehlert) May 2, 2017
Trump doesn't know what caused the Civil War but he knows what the Nullification Act of 1832 was??

— Eric Boehlert (@EricBoehlert) May 2, 2017
@TheRickWilson South gets to keep slavery in return for Trump Tower Richmond, Confederate Trademarks.

— Mursili (@Mursili_I) May 2, 2017
#TheCivilWar - Narrated by #AndrewJackson and #FrederickDouglass. Directed by @realDonaldTrump #HonestTVshows @midnight pic.twitter.com/G9W9AIIqya

— Miss Myrtle (@MissMyrtle2) May 3, 2017