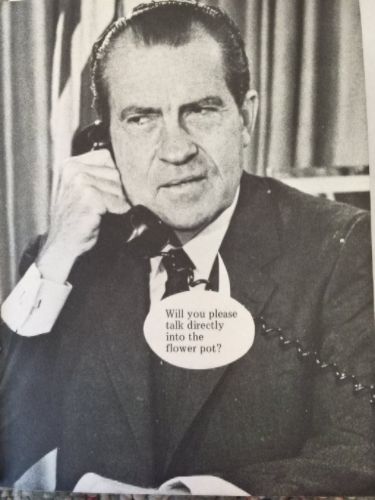 Things are getting stranger as more facts as well as speculation are being tossed around about the Trump Administration's connection to Russia both after the election as well as long before. Everyone in his Cabinet seems to have had some contact with Russian operatives, even Jeff Sessions who is now Attorney General who last week recused himself from any future investigations. And it is pretty clear that the FBI and NSA are looking at the situation as a grave matter of National Security.
From GuardianUK: "Will Russia connection become the Trump administration's Watergate?"
The US president's joint address to Congress this week was well received but was rapidly overshadowed by revelations that his attorney general, Jeff Sessions, had twice spoken with the Russian ambassador during last year's presidential election.
As it has emerged that other members of the Trump campaign – including his son-in-law Jared Kushner – also met with the ambassador, Sergey Kislyak, the Kremlin connection seems destined to be the putative scandal that will not go away for the White House.
...Congressman Adam Schiff, the top Democrat on the House intelligence committee, has called for Sessions to quit, saying he "clearly misled" the Senate about contacts with Russian officials, and demanded that a special prosecutor be appointed.
Schiff also accused the FBI director, James Comey, of withholding crucial information about its investigation into Russian meddling in the election, and raised the prospect of subpoenaing the agency.

Here's a poem for the Trump Administration.

Sessions#DrSeuss#DrSeussDay pic.twitter.com/anQ2KmxRVA

— Donald J Orwell (@DonaldJOrwell) March 2, 2017
We reached all 26 members of the 2016 Armed Services Committee to see who met with Russian envoy Kislyak in 2016. Sessions was the only one.

— Adam Entous (@adamentous) March 2, 2017
Let's not be naive folks. Kislyak obviously was meeting Sessions because of his role in Trump world. That's his job.

— Michael McFaul (@McFaul) March 2, 2017
3/4/2017- Trump's Tie #TrumpRussia #SessionsRussia #FlynnRussia https://t.co/OY47bGe3Cu pic.twitter.com/TsjZBoWMWy

— Clay Bennett (@BennettCartoons) March 4, 2017
From Washington Post:
Sessions failed to tell the truth during his confirmation hearings about meeting with Russian Ambassador Sergey Kislyak, and allegedly no one in the White House knew of those meetings until The Washington Post broke the story last Wednesday.
During his confirmation hearing, Sessions was asked one question but answered another, and in so doing, did not tell the truth. Sen. Al Franken (D-Minn.) asked Sessions, "If there is any evidence that anyone affiliated with the Trump campaign communicated with the Russian government in the course of this campaign, what will you do?"
This was a prospective question, with Franken asking the likely next attorney general how he would handle such allegations if intelligence officials produced such evidence. Sessions chose to answer it this way: "I'm not aware of any of those activities. I have been called a surrogate at a time or two in that campaign, and I did not have communications with the Russians, and I'm unable to comment on it."

WATCH: Attorney General Jeff Sessions appears to be lying under oath here. Says he did not meet with Russians, when he did. pic.twitter.com/mMw14QfUDm

— Yashar (@yashar) March 2, 2017
Nyet, I swear I never had meeting with that man, Mr. Kislyak, not once.. #morintoon #JeffSessions #JusticeDept #Russiagate #DonaldTrump pic.twitter.com/hbicDn3Idy

— Jim Morin (@MorinToon) March 4, 2017
Here's a real statement from Trump on Sessions: "It is a total witch hunt!" pic.twitter.com/tfOP3wfGdA

— Kyle Griffin (@kylegriffin1) March 3, 2017
NEW: Jeff Sessions greets guests at Trump's Mar-a-Lago Club https://t.co/g7IxFupN27 pic.twitter.com/huTeUQpOQM

— The Palm Beach Post (@pbpost) March 5, 2017
Jeff #Sessions: Come for the racism. Stay for the treason.#TrumpRussia

— Tea Pain (@TeaPainUSA) March 2, 2017
"No one talked to Russia except my Campaign Manager, National Security Advisor, Attorney General and like 11 other guys. NO ONE." pic.twitter.com/6u2LgJb3Jt

— Jason Kander (@JasonKander) March 2, 2017
Statement from Carter Page to @CBSNews on report of meeting w Kislyak in July: pic.twitter.com/k5bxBzy0p7

— Jacqueline Alemany (@JaxAlemany) March 2, 2017




~~~~~~~

Trump himself wondered about possible government wiretaps inside Trump Tower, which would mean that the government definitely has suspicians of espionage. Trump wrongly aimed the blame on former President Obama, who never could have planted bugs anywhere because Presidents don't have the power to order wiretaps. Strangely the one taking up for Obama is James Comey, who just swayed the election to Trump with his erstwhile investigation of Hillary's emails.
Terrible! Just found out that Obama had my "wires tapped" in Trump Tower just before the victory. Nothing found. This is McCarthyism!

— Donald J. Trump (@realDonaldTrump) March 4, 2017
Just out: The same Russian Ambassador that met Jeff Sessions visited the Obama White House 22 times, and 4 times last year alone.

— Donald J. Trump (@realDonaldTrump) March 4, 2017
Is it legal for a sitting President to be "wire tapping" a race for president prior to an election? Turned down by court earlier. A NEW LOW!

— Donald J. Trump (@realDonaldTrump) March 4, 2017
How low has President Obama gone to tapp my phones during the very sacred election process. This is Nixon/Watergate. Bad (or sick) guy!

— Donald J. Trump (@realDonaldTrump) March 4, 2017
Is it true the DNC would not allow the FBI access to check server or other equipment after learning it was hacked? Can that be possible?

— Donald J. Trump (@realDonaldTrump) March 5, 2017


~~~~~~~~~~~~~~~~~~~~


Statement from @BarackObama Spox: pic.twitter.com/cIth6KXGlK

— Susan Davis (@DaviSusan) March 4, 2017
3/ The @guardian's @julianborger reported on the FISA warrant again when the Steele dossier news broke in January https://t.co/CZKm9Tam7l pic.twitter.com/CX0PAGTDs7

— Justin Hendrix (@justinhendrix) March 4, 2017
@mcspocky I'm not sure what the saddest thing about this is. Him not understanding wiretap laws or not knowing how to spell TAP. Sheesh. pic.twitter.com/RlwUPXBc2z

— Scotty Chris Knight (@scottycknight) March 4, 2017
Take Nixon in the deepest days of his Watergate paranoia, subtract 50 IQ points, add Twitter, and you have Trump today.

— Bruce Bartlett (@BruceBartlett) March 4, 2017
The FBI can't get a warrant for a #FISA #WIRETAP at #Trump tower without probable cause
Let's enjoy that for a moment
❤️💜💛💚💙#trumprussia
🚫🐸

— Mary Ann (@cinemaven) March 4, 2017
Journalists know: When leaders go berserk, furiously denying there's anything going on, blaming others--that's when you're getting close.

— Nicholas Kristof (@NickKristof) March 4, 2017
Meeting w/ a Russian ambassador is not odd. It becomes odd when you meet w/ them outside of the embassy & then lie about it repeatedly.

— Caroline O. (@RVAwonk) March 3, 2017
6. Natsec reporter @KenDilanianNBC says: "If it's true there was a #FISA [warrant] to get coms at #TrumpTower, Trump just declassified it."

— Peter Daou (@peterdaou) March 4, 2017
Trump should know OBAMA NEVER LEFT THE WHITE HOUSE! He's in the closet! HE HAS SCISSORS!

— Stephen King (@StephenKing) March 4, 2017
@StephenKing THE WIRE TAPPING IS COMING FROM INSIDE THE WHITE HOUSE

— mae whitman (@maebirdwing) March 4, 2017
.@realDonaldTrump The calls are coming from inside the White House... pic.twitter.com/PKoHl7rUOu

— Shannon Watts (@shannonrwatts) March 5, 2017
@realDonaldTrump It's tap, Donald. T-a-p.

I'm here for you if you need help with cat and other three letter words.

— Kelly Scaletta (@KellyScaletta) March 4, 2017
Trump's wiretap claim Catch-22. If it happened, a judge saw probable cause. If it didn't, Trump is being insane. pic.twitter.com/rdVVjR70ks

— Brian Klaas (@brianklaas) March 4, 2017
Newsflash, Donnie: if the FISA court approves it, then yes, that makes it legal. @realDonaldTrump https://t.co/KfL0K0ydl4

— Charles Johnson (@Green_Footballs) March 4, 2017
@Green_Footballs It is pretty embarrassing that he's asking legal questions on Twitter.

— Liz Gumbinner (@Mom101) March 4, 2017
.@realDonaldTrump—Yes its legal for your phone to be tapped especially while u were colluding with Putin. #trumprussia #russiagate

— Scott Dworkin (@funder) March 4, 2017
@realDonaldTrump Does #PresidentBannon only let you have your phone at 6am? #TrumpRussia #ThingsWeShouldInvestigate pic.twitter.com/0zpWOUGCF8

— #TheResistance (@AynRandPaulRyan) March 4, 2017
Today's Twitpanic and paranoid claims of phone tapping confirms: Trump lives in a cocoon built to keep reality out. pic.twitter.com/rmtPHppUUb

— Keith Olbermann (@KeithOlbermann) March 4, 2017
No, presidents can't order wiretaps https://t.co/nDLzM8HOh5 via @amjoyshow

— AM Joy w/Joy Reid (@amjoyshow) March 4, 2017
.@realDonaldTrump you just got rebuked by your own FBI director for spreading fake news regarding Obama wiretapping…

How does that feel? pic.twitter.com/DP3GSZ2XgV

— Adam Khan (@Khanoisseur) March 5, 2017
FBI Director James Comey asks Justice Department to publicly reject Trump's 'wiretap' claims https://t.co/hUFzpN1WNE pic.twitter.com/4Pn0Gd1zBM

— Raw Story (@RawStory) March 6, 2017
Trump advisor Roger Stone went on a bigoted Twitter rant last night. Here's what he deleted. https://t.co/cl2jezkg9b

— Jeanne K. (@SnarkAmendment) March 5, 2017
Tom Cotton says most Americans don't care about Trump accusing Obama of wiretapping his phones based on no evidence @FoxNewsSunday

— Josh Rogin (@joshrogin) March 5, 2017