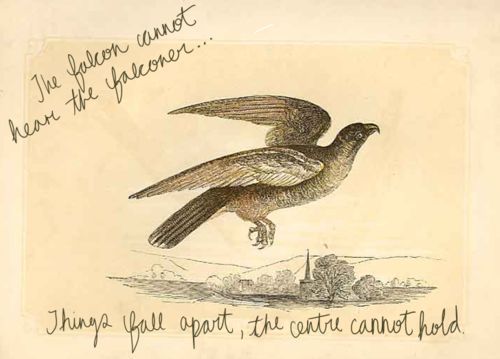 The Electoral College voted to confirm Donald Trump as President. The world didn't end, even though "the falcon cannot hear the falconer" anymore, and the center did not hold.
Trump isn't the only bad President we've had in the United States, and he's certainly not the only President I've been depressed about in my lifetime. Nixon was horrible,and because of Watergate I refused to watch the TV news for about ten years while growing up. Reagan beat out Jimmy Carter and we were stuck with Ronny and Mommy in the White House, yet that almost seems like a golden age to me now. George W. Bush caused havoc in the country by stealing the election from Al Gore, and letting warmongers like Cheney and Rumsfeld drag us into a forever war over oil. Yet we survived and moved into the Age of Obama, the first black President of the United States and a great statesman. We beat the odds for eight years, in spite of everything the "worst of us" could do.
However, Trump is in a category by himself, and we are down the rabbit hole and into the Upside-Down, as they call it in the Netflix series "Stranger Things." Trump is a lunatic, a sex maniac, a racist, and a tax cheat. Clearly he conspired with Putin's Russian hackers, Comey at the FBI, and fake news pushers such as Breitbart to defeat Hillary Clinton. What we see of his corruption is only the tip of the iceberg. If not the Anti-Christ or "rough beast" from Yeats's poem, he is the Demogorgon from Dungeons and Dragons lurking in the dark who has managed to pull us all to the Upside Down.
Still, the world didn't end - not yet, anyway. True that these are dark days for Democrats while the best and brightest among us just want to hibernate and lick our wounds for the next four years. Yet hope still remains. Our party was strong this past year and we made sense to the rest of world. Obama and Hillary are almost universally praised outside of the United States. But we need heroes to step up now so we can survive Trump, and what form they will take in the future is up to God, Fate, and the Wheel of Karma. The falcon may have escaped the falconer and Trump may have escaped the Electoral College, but something else - an eagle, a lightning bolt, the Truth ... something - may keep Trump from completely destroying our country.
President Obama was too good for us, and we'll probably never have a better President. But our country is better than Trump, and maybe - just maybe - even the cowards and toadies in his own party won't let things completely fall apart.
So it's official, and it's vile: the loser of the popular vote installed by Russian intervention, a rogue FBI, and epic media malfunction.

— Paul Krugman (@paulkrugman) December 20, 2016
We should never accept this as OK. It may be the new normal, but that's a new normal in which the America we knew and loved is gone

— Paul Krugman (@paulkrugman) December 20, 2016
Seriously, I keep tearing up when I think about what America did to itself in this election. The worst political event I've ever witnessed.

— Charles Johnson (@Green_Footballs) December 17, 2016
NEW RESISTANCE: After the Electoral College vote comes the ways to resist, including NEVER calling Trump "president" pic.twitter.com/ZtC8olNAXk

— Keith Olbermann (@KeithOlbermann) December 20, 2016
Donald Trump's final total looks like to be 46.1%, or less than half a point better than Michael Dukakis in 1988 https://t.co/FxnCd9qILw

— David Frum (@davidfrum) December 17, 2016
.@RobReiner: Hostile foreign power has invaded U.S. https://t.co/Lbs4wlj1J6 via @amjoyshow

— AM Joy w/Joy Reid (@amjoyshow) December 18, 2016
And just like his campaign, Trump enters his presidency with a blatant lie. Not much hope folks. Not much at all. pic.twitter.com/c3Oy8z6rJo

— Amy Siskind (@Amy_Siskind) December 20, 2016
Silver lining: At least I don't have to hear any more "the electoral college might save us" absurdity ever again.

— Erik Loomis (@ErikLoomis) December 19, 2016
Shouted during Wisconsin #ElectoralCollege vote: "You just sold us out of this world, we're all going to go to war and die thanks to you."

— Scott Bauer (@sbauerAP) December 19, 2016
Wow!! This is incredibly sad:

Michelle Obama: 'We're feeling what not having hope feels like https://t.co/LkCocPeaNQ

— Cheri DelBrocco (@cdelbrocco) December 17, 2016
#TheResistance

Find, follow, read & share voices of #Resistance
I try to retweet a few each day.
Stronger together. pic.twitter.com/64IyI8ArWj

— The Anti-Trump (@IMPL0RABLE) December 20, 2016
This will be a lasting stain on the FBI, rivaling some of Hoover's worst abuses and arguably bigger in terms of impact to the country. pic.twitter.com/w2HCVx7s4P

— Matthew Miller (@matthewamiller) December 20, 2016
Interesting arguments from the ACLU, which has opposed the electoral college since 1969. https://t.co/wLaI1xn53G pic.twitter.com/TqrZmBz7m4

— Matt Pearce (@mattdpearce) December 20, 2016