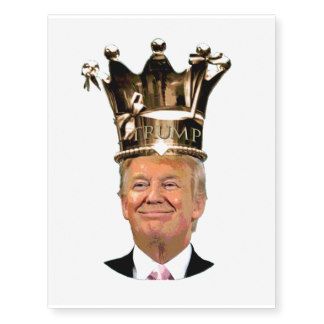 In honor of Christmas (maybe) the RNC has proclaimed that Trump is not only President, he is King of Kings, and comparable to Jesus.
Really. Read the
RNC Statement
:
WASHINGTON - Republican National Committee (RNC) Chairman Reince Priebus and Co-Chair Sharon Day released the following statement celebrating Christmas:

"Merry Christmas to all! Over two millennia ago, a new hope was born into the world, a Savior who would offer the promise of salvation to all mankind. Just as the three wise men did on that night, this Christmas heralds a time to celebrate the good news of a new King. We hope Americans celebrating Christmas today will enjoy a day of festivities and a renewed closeness with family and friends.

"Even as we celebrate, we must also remember those among us who are less fortunate. Many on this day are without hope, and need the kindness and compassion of those around them. It is our prayer we will rise to meet the material, emotional, and spiritual needs of individuals all around us, and what better day is there to love our fellow man than today?

"As we open presents, enjoy Christmas dinner, and celebrate our own family traditions, we are mindful of our men and women in uniform. Many are stationed around the world today protecting our freedoms, and cannot be with their own spouses, children, parents, and siblings. We express the deepest gratitude for service that takes them away from celebrating with loved ones, and we ought to remember them in our thoughts and prayers not just on Christmas Day, but the whole year round."
The backlash was instant and fierce:
From the Palmer Report:
It's the "this Christmas" and "new King" in the same sentence that have gotten Priebus in trouble, in a seemingly obvious reference to Donald Trump currently being on the verge of taking office and effectively taking over the United States. But now he's insisting to CNN that he was in fact referring to Christ, even though the RNC Christmas message he sent out last year made no mention of any "King" one way or the other.
Reince Priebus compared Trump to Jesus

Trump actually seems to believe he IS Jesus. https://t.co/bG0JwozqF2

— Stonekettle (@Stonekettle) December 26, 2016
Lame denial, too. https://t.co/TgULcbA3Pi

— Crooks and Liars (@crooksandliars) December 26, 2016
When you have to clarify... https://t.co/C100o5410V

— Joy Reid (@JoyAnnReid) December 27, 2016
REINCE: We weren't calling Trump the New King.
CONWAY: Don't be silly.
TRUMP: I am the New King!
REINCE & CONWAY: Uh, that's what we meant!

— Daniel Radosh (@danielradosh) December 25, 2016
1. Donald Trump is not a king. He's not a hero, he's not a role model, he's not a gentleman. He does not have any redeeming qualities, imo.

— 🇺🇸Teacher 🇺🇸 (@Ms_Teacher_L) December 26, 2016
RNC Implies Trump "New King" In Creepy Christmas Message https://t.co/BCyP76lHkJ

— Marian (@mkaee) December 27, 2016


Our Tweet @SnarkAmendment:


"Bad King Donald Trumpeslas" #KingTrump #Trump #StStephensDay #BoxingDay #Wenceslas #Bannon #Putin @Reince @KeithOlbermann pic.twitter.com/j87ubFyOwb

— Jeanne K. (@SnarkAmendment) December 26, 2016