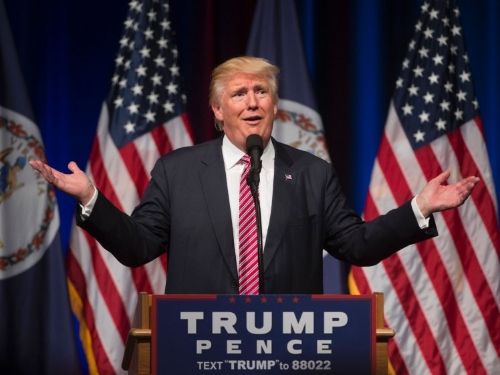 Donald Trump has decided that nothing will be sacred in this election season - not even small babies. You know, Mitt Romney used to unintentionally make babies cry too, but he never banished them from his rallies for God's sake.
He sounds like a mean comic in a nightclub instead of a Presidential candidate. And who are the jerks laughing in the audience? Is this really happening in our country?
From CNN
"I love babies. I hear that baby cry, I like it," Trump said at a campaign event here as a baby could be heard crying in the audience. "What a baby. What a beautiful baby. Don't worry, don't worry. The mom's running around, like, don't worry about it, you know. It's young and beautiful and healthy and that's what we want."

But less than two minutes later, as the baby continued to wail, Trump took back his words.
"Actually I was only kidding, you can get the baby out of here," he said to laughs. "I think she really believed me that I love having a baby crying while I'm speaking. That's OK. People don't understand. That's OK."

Until this afternoon I thought "Trump Attacks Baby" was the one headline that would continue to stand as parody.

— Michael Tomasky (@mtomasky) August 2, 2016
"Is Trump a bad idea? If only we had a sign…"

*Bald eagle attacks Trump*
*Norovirus at RNC*
*Baby cries in terror*

"Any sign at all…"

— Daniel Lin (@DLin71) August 3, 2016
I'm sure Trump will handle the baby incident with his usual maturity pic.twitter.com/AI9fF1ZyyK

— Daniel Lin (@DLin71) August 2, 2016
TRUE STORY: Trump actually booted a crying baby out of his rally today, probably cause the baby's hands were bigger. @realDonaldTrump

— Tea Pain (@TeaPainUSA) August 2, 2016
.@TimKaine tells crowd Trump asked for a baby to be removed from rally: "Sometimes you wonder who the baby is." https://t.co/oy7U12Jb1s

— ABC News Politics (@ABCPolitics) August 2, 2016
First Trump attacked the Hotel Roanoke. Then a Gold Star VA family. Today, he kicked a baby out of a VA rally. Virginia is not for haters!

— Senator Tim Kaine (@timkaine) August 2, 2016
Trump will definitely eat a live puppy by November. It's the only thing left. https://t.co/BHubFtBavf

— Ryan Lizza (@RyanLizza) August 2, 2016
Even this baby knows Trump is an
A$$Hole! pic.twitter.com/z5oQXn31wW

— Just Ann American (@masg66) July 30, 2016