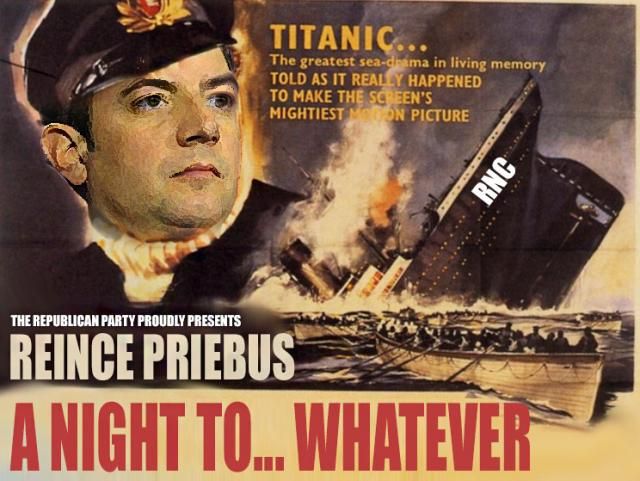 Trump's constant weird statements, tweets, and gaffes are causing a crisis and meltdown inside the Republican Party that is almost unprecedented in American history.
His poll numbers are tanking, and staff members have been described as "suicidal" and looking to jump from the sinking ship. Republicans down-ticket are distancing themselves or endorsing Hillary Clinton - also an incredibly rare event in modern politics.
All this is a nice 55th Birthday for President Obama, not to mention the fact that Obama hit an all-time high on his approval ratings. And for all the Dems, the talk isn't just about taking the Senate back, but the House as well, not to mention the White House.
BREAKING: Exclusive LIVE footage of Trump Campaign Headquarters. #TrumpTrain #MAGA pic.twitter.com/bI1WGq2Tvs

— The Baxter Bean (@TheBaxterBean) August 3, 2016
10 Political and Psychological Observers Who Think Trump May Have Gone Off the Deep End https://t.co/EZYGAbx9ye pic.twitter.com/lNh5I9asEm

— Artzthings (@Artzthings) August 2, 2016
"Don't worry about that baby, I love babies"

"Actually I was only kidding, you can get that baby out of here."pic.twitter.com/bWJa0PiUPX

— Judd Legum (@JuddLegum) August 2, 2016
Baby cries

Trump: "I hear that baby crying, I like it!"

MOMENTS LATER

Trump: "you can get the baby outta here"
https://t.co/hygTDAakzO

— Bradd Jaffy (@BraddJaffy) August 2, 2016
— Jeanne K. (@SnarkAmendment) August 4, 2016
longtime ally of Paul Manafort, Trump's campaign manager: "Manafort not challenging Trump anymore. Mailing it in. Staff suicidal."

— John Harwood (@JohnJHarwood) August 3, 2016
#PaulManafort just told me @JohnJHarwood report wrong -- that all is ok on the #Trump Train. From outside of course it looks like no rails.

— Howard Fineman (@howardfineman) August 3, 2016
NBC NEWS: Trump allies are plotting an intervention after disastrous 48 hours – @chucktoddhttps://t.co/FVvQzvvxuA pic.twitter.com/cQfW7I9MVG

— Bradd Jaffy (@BraddJaffy) August 3, 2016
Apparently sometime in the last 72 hours, major GOP leaders suddenly realized: 'My God, we nominated DONALD TRUMP! For PRESIDENT!"

— Jeff Greenfield (@greenfield64) August 3, 2016
Video: "The campaign is doing really well. It's never been so well united," Trump says as he begins Florida rally https://t.co/O9UHR082jR

— Bradd Jaffy (@BraddJaffy) August 3, 2016
In the new Fox News poll, 85% of black voters go with Clinton, 7% with Johnson, 1% with Trump. 1%.

— (((Harry Enten))) (@ForecasterEnten) August 4, 2016
Clinton's 9 pt lead in NBC/WSJ poll is larger than any Obama lead over Romney during 2012. Last Election Day margin that big: Reagan 1984

— John Harwood (@JohnJHarwood) August 4, 2016
Back when Romney was going down in 2012, Ailes created alternate reality that he was winning. Fox now acknowledging Trump is imploding

— Gabriel Sherman (@gabrielsherman) August 4, 2016
Can a rising Obama help Hillary Clinton? (@jennagiesta @CNNPolitics) Details: https://t.co/RXacKma3Ll pic.twitter.com/nhYzwcMNBF

— OpinionToday.com (@OpinionToday) August 5, 2016
— JoeInWV (@wvjoe911) August 4, 2016
@amandacarpenter @KatrinaPierson Katrina Pierson returning home every day after a CNN appearance. pic.twitter.com/zqFqIgJeny

— Steph Bello (@steph_bello) August 2, 2016
— Ricky Davila (@TheRickyDavila) August 2, 2016
— Jennifer Bendery (@jbendery) August 4, 2016
BREAKING: The Harvard Republican Club announced it would not support Republican presidential nominee Donald J. Trump

https://t.co/OhKvOymu7m

— The Harvard Crimson (@thecrimson) August 4, 2016
Judge Curiel Rules Trump Must Face Trial for Racketeering in Trump University Suit https://t.co/euFgiLyziY

— Democratic Patriot (@puppymnkey) August 3, 2016
Trump Taj Mahal in Atlantic City Is Closing https://t.co/zTEHKa50nH via @MotherJones

— JoeInWV (@wvjoe911) August 3, 2016