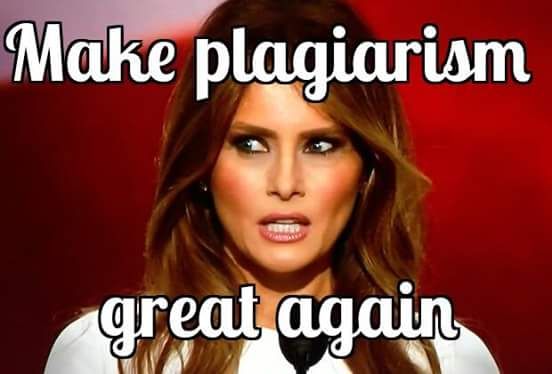 meme source: @KingBrooks1 on Twitter
Melania Trump made her speaking debut at the Republican National Convention this week and immediately she drew praise from all sides for her poise and speaking ability. Well-done, Melania!
Then five minutes later, some guy on Twitter realized he had heard her speech before because it contained phrases such as "word as my bond." Was that a coincidence? Well, no. It turns out that Mrs. Trump somehow managed to plagiarize a speech given by Michelle Obama in 2008 that was basically a cut-and-paste job.
The the tweets hit the fan!
Update:
There have been several twists and turns so far, but the latest spin is that a ghostwriter from several of Donald Trump's books named Meredith McIver has taken the blame for the fiasco. But that in itself caused more confusion as people tried to find information on Ms. McIver and found little or nothing about her credentials or career. Some don't even believe she is a real person (like Donald's alias, John Barron), so stay tuned.
Here's the guy who discovered
the plagiarism: Jarrett Hill, who admired
Michelle Obama's speech and remembered it
Laid-off TV reporter caught Melania plagiarism while watching MSNBC livestream from a Starbucks:

https://t.co/aCaNuIYzSu

— Michael Calderone (@mlcalderone) July 20, 2016
— Jarrett Hill (@JarrettHill) July 19, 2016
13 interviews in the last 11 hours.
40 mins of sleep last night.
40 mins of sleep in the car just now.
One more in 3 hrs.
What a day.

— Jarrett Hill (@JarrettHill) July 20, 2016
July 19, 2016
— E5QUIRE (@Dj_E5QUIRE) July 19, 2016
The Rickroll Comparison!
Spoof from Colbert Late Show:
My Little Pony Defense!
Here is the RNC'a chief strategist citing My Little Pony to argue that Melania Trump did not plagiarize her speech

pic.twitter.com/eRifu41wHC

— Dave Itzkoff (@ditzkoff) July 19, 2016
— Shomari Stone (@shomaristone) July 19, 2016
— Frank Thorp V (@frankthorp) July 20, 2016
Melania plagiarism story has changed so many times over the last couple of days. Can't keep up with all the lies.

pic.twitter.com/FzfnDHVVqG

— BlueTeam007 (@BlueTeam007) July 21, 2016
Serious question: has any news outlet seen or interviewed Meredith McIver? Asking because of the GOP candidate's history of using aliases.

— Joy Reid (@JoyAnnReid) July 20, 2016
Almost everything in this Meredith McIver profile, including pics, were added 15 hours ago:

https://t.co/KtCoD8wsJH

— Laura (@SheWhoVotes) July 20, 2016
Meredith McIver, the staffer who took fall for Melania's speech, is a ex-ballet teacher & longtime Trump ghostwriter

https://t.co/GhhSQlshFM

— Jim Roberts (@nycjim) July 20, 2016
WOW. Didn't think Melania's speech could get bigger. Did Trump violate federal law by using a Trump Org speechwriter?

https://t.co/8wcmqGpNbV

— Jarrett Hill (@JarrettHill) July 20, 2016