It was epic, it was sweeping, it was historic, and it helped millions of men, women, and children around the world get over the worst election in American history.
What a historical day! One good thing about Trump, He unintentionally united America & the World against him. #WomensMarch #LoveTrumpsHate pic.twitter.com/BLWganTtlz

— бэnnydiэgø 📎 (@bennydiego) January 22, 2017
Rooftop view of the #WomensMarch in D.C. today. pic.twitter.com/ruVp3IzYbF

— DC Maryland Virginia (@DMVFollowers) January 22, 2017
These women never met till today and practiced this song online. Show them some love. #Icantkeepquiet #WomensMarch #WomensMarchOnWashington pic.twitter.com/rPA4dDTIYz

— Alma Har'el (@Almaharel) January 21, 2017
Will it change the fact that Donald Trump is President? No. Will it send a message to conservatives that we will not sit down and shut up and let them run the show? Yes! So at least there is hope that someone is paying attention.
From New York Mag: "Don't Let Anybody Tell You the Marches Didn't Matter
It matters that Trump drew a sparse crowd to inaugural festivities that he had billed beforehand as a historic, Jacksonian uprising of The People. And it matters much more that millions of Americans came out on a Saturday to register their protest. It is not only catharsis, though catharsis is better than depression. The message has been heard by the political class, Republican and Democratic alike.
Check out the crowd to get into the Shady Grove, MD Metro station. #WomensMarch pic.twitter.com/1KD5klbOu1

— Kidspud (@Kidspud) January 21, 2017
Yesterday Metro set the record for the 2nd busiest day in history with 1,001,613 trips. Obama's inauguration was 1st with 1.1 million trips. pic.twitter.com/mergUMQxuP

— DC Maryland Virginia (@DMVFollowers) January 22, 2017
Women's March on Everywhere—fantastic images from across the nation https://t.co/PKUuP47EHA

— philip harris (@pharris830) January 21, 2017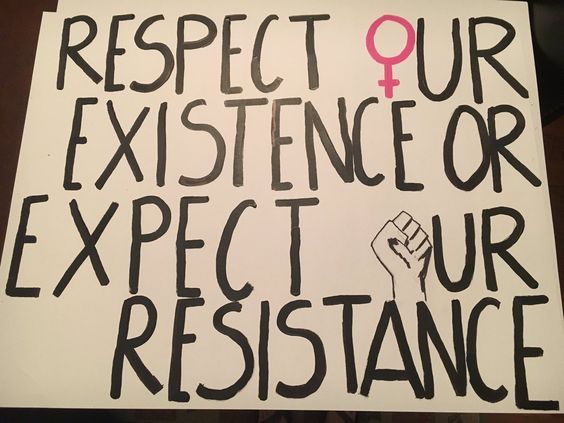 Total number of people marching today is 2.5 MILLION.

That's about TEN TIMES the size of yesterday's inauguration https://t.co/IGMebU7whB pic.twitter.com/eA1wjJIY8E

— Judd Legum (@JuddLegum) January 21, 2017
"Carrie Fisher sent me": These are the signs people brought with them to the women's march in Washington https://t.co/uhlNOqJo4r pic.twitter.com/RnHmOScgo6

— Los Angeles Times (@latimes) January 21, 2017
#WhyIMarch Equality for Women, Civil Rights, Voting Rights LGBTQ Immigration. RT if you agree #WomensMarch #AddHerName #StillWithHer #Resist pic.twitter.com/JHNbENKyQZ

— #StillWithHer (@deejay90192) January 21, 2017
Best #WomensMarch sign so far pic.twitter.com/YLbyoPP77o

— umop apisdn 📎 (@QueenOfLesbania) January 21, 2017
Best. Sign. Ever. #WomensMarch #womensmarchnyc #sobadevenintrovertsarehere pic.twitter.com/TmJydvooqu

— Susan Kaufman (@skaufman4050) January 21, 2017
At DC Womens march pic.twitter.com/jGMVYqQNnd

— Steve Lopez LA Times (@LATstevelopez) January 22, 2017
And @womensmarchchi embroidered protest sign is hooped and ready! @womensmarch #notmypresident pic.twitter.com/My8AyqRxfq

— Shannon Downey (@ShannonDowney) January 19, 2017
#WomensMarch approaches Washington Monument. #TheMarchContinues pic.twitter.com/jBhWnaxiUV

— SPLC (@splcenter) January 21, 2017
#WomensMarch pic.twitter.com/wNKw5TEDnw

— Tara Lynne Barr (@taralynnebarr) January 21, 2017
Emma Watson in the crowd at #WomensMarch in Washington, D.C. pic.twitter.com/xqlxggfbXF

— Austin Hunt (@AustinHunt) January 21, 2017
Happy to march with 125k+ women (& friends of women) in Boston. We can whimper, we can whine, or we can fight back. #WomensMarch pic.twitter.com/8yCQZBrqpO

— Elizabeth Warren (@elizabethforma) January 21, 2017
Boston #WomensMarch @AmherstWire pic.twitter.com/TiW6dyGuyq

— Bryan Bowman (@BryanBowman14) January 21, 2017
Find me a better #WomensMarch sign than this one. I challenge you. (via @BenMcCool) pic.twitter.com/vIjp0B5oHd

— Scott Weinberg (@scottEweinberg) January 21, 2017
the british womens march signs are definitely my favourite pic.twitter.com/ToXGmadxbB

— cec (@ronaIdbilius) January 21, 2017
300,000 marched in NYC today. Wasn't even main march & almost as big as Trump's inauguration #womensmarchnyc pic.twitter.com/k1fE5CBsf9

— Ari Berman (@AriBerman) January 21, 2017
Hey-hey ho-ho Donald Trump has got to go! #WomensMarch NYC pic.twitter.com/ufC8gl4G1u

— Mark Elliott (@markmobility) January 21, 2017
Rosie Perez and Yoko Ono were among those in the #WomensMarch in NYC https://t.co/9dyBZbeQW5 pic.twitter.com/j1C9k7k2jq

— Hollywood Reporter (@THR) January 22, 2017
#WomensMarch in deep red Wichita, KS. It's going to be a rough ride for you buttercup @realDonaldTrump you best take heed. #TheResistance pic.twitter.com/6M8Csax0dC

— The Devil (@the_devik) January 21, 2017
Denver's women's march is on the move. pic.twitter.com/IZEBQSxvVS

— Noelle Phillips (@Noelle_Phillips) January 21, 2017
The #WomensMarch in downtown St. Louis! This is what democracy looks like. pic.twitter.com/mzb5xMZUKC

— Antonio French (@AntonioFrench) January 21, 2017
LIVE from Chattanooga #WomensMarch #MusiciansIndivisible ✊🏼 pic.twitter.com/KioS1igspv

— Claire Bryant (@fostermycello) January 21, 2017
#WomensMarch #Chattanooga pic.twitter.com/ZDKqUuygco

— ccchicky (@ccchicky) January 21, 2017
#Chattanooga #WomensMarch #ResistTrump ✊🏼✊🏼✊🏼 pic.twitter.com/6klqLezyIa

— Claire Bryant (@fostermycello) January 21, 2017
#WomensMarch Chattanooga pic.twitter.com/Bzzre5H9KF

— ccchicky (@ccchicky) January 21, 2017
Memphis Y'all pic.twitter.com/FYsuBM4jYY

— Cheri DelBrocco (@cdelbrocco) January 21, 2017
This is Nashville, TN. This is *not* a movement of coastal elites, just in case you missed the memo. #WomensMarch pic.twitter.com/ktBau1IdYe

— Leigh Darnall (@Killingcrawdads) January 21, 2017
Some @starwars themed signs at the Nashville #WomensMarch. "Rebellions are built on hope." @NC5 pic.twitter.com/OxYseGff01

— Jesse Knutson (@NC5_JKnutson) January 21, 2017
15,000 March For Women's Rights In #Nashville https://t.co/9LzJE97tk5 #WomensMarch #TheResistance #UniteBlue

— Jeanne K. (@SnarkAmendment) January 22, 2017
Charlotte Just Witnessed The Largest Women's March In City's History https://t.co/YtdSZki7hB #WomensMarch pic.twitter.com/sAGMo2mQqR

— Charlotte Stories (@clt_stories) January 21, 2017
A smaller #WomensMarch in Mentone, Alabama. About 50 people in a town of 360, not too bad. pic.twitter.com/aKk2hHyDeC

— june murph? (@bobocek) January 21, 2017
💪 #WomensMarch pic.twitter.com/292kmKpu1E

— Texas Democrats (@texasdemocrats) January 21, 2017
Overheard from police: "This looks like the largest protest in #PortlandME history" #WomensMarch pic.twitter.com/7VI2QGIQhA

— Whit Jones (@whitjones) January 21, 2017
In Chicago, large crowds come out for Women's March the day after Pres. Donald Trump's inauguration https://t.co/nUo6ME1TFT pic.twitter.com/CuDXNcJa5J

— ABC News Politics (@ABCPolitics) January 21, 2017
Seattle #WomensMarch has finally left Judkins Park. Early numbers from the city estimate 130,000 participants. pic.twitter.com/6hICuBFsmF

— KING 5 News (@KING5Seattle) January 21, 2017