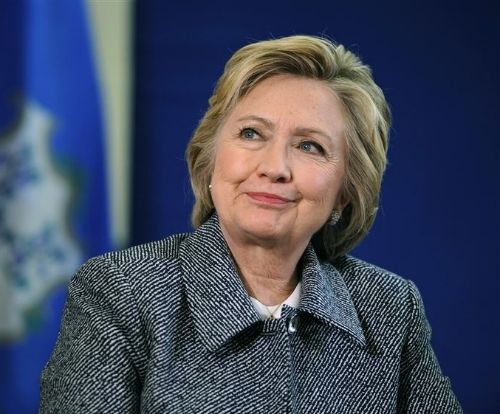 In spite of not winning the Indiana Primary, Hillary Clinton had a strong week as a candidate.
After Donald Trump accused her of playing the Woman Card, Hillary raised 2.4 million dollars by offering supporters a literal Woman Card for a donation.
The #WomanCard?

Fighting for women's rights is a card we'd play any day.https://t.co/HWPpXei0xs

— Hillary Clinton (@HillaryClinton) April 30, 2016
Get your own #WomanCard*: https://t.co/3DgpQSy3qb

*does not include a 21% discount on your purchases. pic.twitter.com/2xiRyOws5F

— Hillary Clinton (@HillaryClinton) April 29, 2016
Clinton Campaign Says It Raised $2.4 Million From #DonaldTrump's '#WomanCard' Comment https://t.co/PDdGCcyjk3 pic.twitter.com/9zNXdsNJE9

— ElishaRoss (@DotMLDomains) May 3, 2016
She began the vetting process for Vice President, and of course Twitter had a few suggestions.
Hillary Clinton Reportedly Quietly Weighing Vice President Options | TODAY https://t.co/qaMa1IL5Ny via @YouTube

— Cindy Leinwand (@CindyLeinwand12) April 25, 2016
Some possible choices for Hillary Clinton's veep: https://t.co/tBCsoqewTj pic.twitter.com/6kXQi2QqWB

— American Prospect (@theprospect) April 29, 2016
The Case for Vice President Al Franken
"Hillary needs someone like Franken if she's going to beat Trump." https://t.co/jgj721tGnL

— Nina L. Diamond (@ninatypewriter) May 4, 2016
Deval Patrick is reportedly on the Hillary Clinton campaign's short list for vice presidenthttps://t.co/raABpYiSDF pic.twitter.com/fLIudArMej

— Boston Today (@TodayBostonMA) April 25, 2016
Picking Elizabeth Warren for Vice-President Would Solve a Lot of Hillary's Problems https://t.co/agpUoqbV3a via @intelligencer

— Ava Armstrong (@MsAvaArmstrong) April 24, 2016
And she turned towards the general election in a big way with two ads targeting Trump:
The GOP literally made Hillary's anti-Trump ad for her https://t.co/H0fAEABY8W

— Ishaan Tharoor (@ishaantharoor) May 4, 2016
Hillary's new anti-trump ad edited for twitter. #DumpTrump #BumpBernie She's fighting the real threat - #ImWithHer pic.twitter.com/uC2UnHZdRN

— Terra Firma (@SDzzz) May 4, 2016
Unfortunately for the Democratic Party, Bernie Sanders is still a major stumbling block for Hillary. He won Indiana possibly due to Independent and GOP cross-over votes. Even though the state was a virtual tie in delegates and Bernie's lead was slim, his followers once again saw it as "momentum" leading to the big prize of California at the end of the primary season.
And Bernie came out swinging at Hillary, telling her he wasn't going anywhere.
Bernie Sanders is the projected winner of the Democratic #INPrimary https://t.co/biR85ab0n9 https://t.co/aLXaleZH2Y

— CNN Politics (@CNNPolitics) May 4, 2016
Bernie Sanders wins Indiana, rages against the dying of the electoral light: https://t.co/zROHWKmAoD pic.twitter.com/FRhokQzKVk

— New York Magazine (@NYMag) May 5, 2016
WATCH: @BernieSanders: If Clinton thinks primary race is over, "I've got some bad news for her." https://t.co/o5ZqjXgHpm

— Good Morning America (@GMA) May 4, 2016
However, those able to #FeelTheMath and accept reality are realizing that the numbers are not in Bernie's favor, and he probably won't catch Hillary on delegates.
Hillary is 181 delegates away from securing the nomination.

— Amy Siskind (@Amy_Siskind) May 4, 2016
The reality, for those who still value reality, is Hillary Clinton is simply beating Bernie Sanders-in popular vote, states won & delegates.

— Joy Reid (@JoyAnnReid) May 3, 2016
Hillary Clinton is beating Bernie by 3.2 million votes:

😍️🇺🇸#ImWithHer #HillYes #Florida #INPrimary #UniteBlue pic.twitter.com/iaDCHzWiuC

— Hillary for Florida (@Hillary4Florida) May 3, 2016
MUST SEE. ICYMI, Rachel #Maddow explains who Bernie Sanders can't win, contested convention or not.https://t.co/qoh4iRiKcy

— Expatablishment (@expatina) May 4, 2016
Delegate math for Bernie Sanders is now Mission: Impossible. https://t.co/8mZSwN1CVA

— Randy Yeip (@randyyeipWSJ) April 21, 2016
However, the Berniebot Believers are never going to give up, and most of them are never going to vote Hillary in the general election. And Bernie's surrogates are still calling for increased donations to keep them going, while building up hopes for a longshot win. It's a con game, and it isn't helping the Democratic Party.
The main lessons from this election year are clear: the Democratic Party needs to fix several things before next time. No more support for Independents pretending to be Democrats. No more open primaries allowing Republicans to tamper with our primaries, and hopefully no more unfair caucuses keeping turnout low.
As it stands now, Hillary and her supporters are having to turn toward the general election and Donald Trump while dealing with rabid Berniebots who basically regurgitate far-right memes about Hillary.