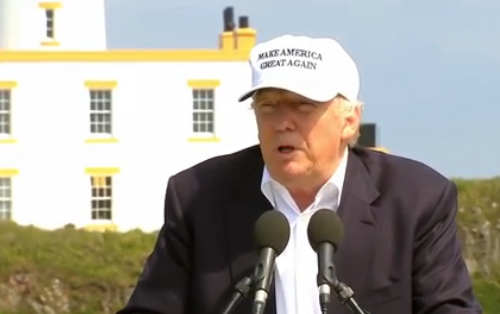 Previous Related Posts:
England's Historic Brexit Shakes Up the World
~~~~~~~~~~~~~
Donald Trump appeared at his new Scottish Golf Resort called "Turnberry" on the morning of the Brexit fiasco. At a press conference, reporters urged him to give insights into the world implications of the historic vote in Britain, but The Donald mainly wanted to sell hotel space to people taking advantage of the falling pound. He came across like a clueless used car salesman talking to the local Elk's Club instead of a possible world leader. History? What history?
Also, Scotland wasn't exactly happy to see Trump either. One local put up a Mexican flag which could be seen from the golf course. A comedian showed up with a box full of golf balls painted with swastikas, and was led away by security.
A Mexican flag flies over the home of Susie and John Munro near Trump's golf course near Aberdeen: pic.twitter.com/M0SkFrvNCE

— Jenna Johnson (@wpjenna) June 25, 2016
Trump gave most of his press conference in Scotland surrounded by these Nazi golf balls pic.twitter.com/UsUoVK3nkW

— Naomi O'Leary ⚡️ (@NaomiOhReally) June 24, 2016
Trump made a gaffe about Brexit as soon as his plane landed that morning - implying that Scotland was celebrating, or as he put it "going wild" over leaving the European Union. The problem is, Scotland voted as a whole to REMAIN. And believe me, Twitter let him know just how wrong he was with some of the best insults the world has ever seen!
Just arrived in Scotland. Place is going wild over the vote. They took their country back, just like we will take America back. No games!

— Donald J. Trump (@realDonaldTrump) June 24, 2016
Scotland voted remain you incompressible jizztrumpet https://t.co/5irQhKxV3h

— TechnicallyRon (@TechnicallyRon) June 24, 2016
Scotland voted to stay & plan on a second referendum, you tiny fingered, Cheeto-faced, ferret wearing shitgibbon. https://t.co/iKyEIxf8ej

— Hamfisted Bun Vendor (@MetalOllie) June 24, 2016
@realDonaldTrump SCOTLAND VOTED TO STAY, YOU WITLESS FUCKING COCKSPLAT!

— Tim Footman (@CulturalSnow) June 24, 2016
scotland voted to remain, you sentient rotting jack-o-lantern https://t.co/y0SJ2ZyNcB

— Maya Kosoff (@mekosoff) June 24, 2016
.@realDonaldTrump We voted 62% to Remain, you ignorant fuckmuppet. We're fucking furious at the result.

— Justin Anderson (@mresheep) June 24, 2016
@realDonaldTrump Scotland wanted to remain in the EU you utter Twonk- Who is using the Trump family brain cell today?

— Paul Bettany (@Paul_Bettany) June 24, 2016
@realDonaldTrump you couldn't be more out of touch with reality if Nessie bit you on the arse you utter fool. Scotland voted REMAIN.

— Terry McDermott (@TerryMacMusic) June 24, 2016
@realDonaldTrump SCOTLAND VOTED TO REMAIN IN EU, YOU TOTAL KNOB!

— Fat Freddie's Cat (@petersquires) June 25, 2016
@realDonaldTrump They voted to STAY, dear. If Mrs. Doubtfire were real & back in Scotland she would would smack you on the head.

— Randi Mayem Singer (@rmayemsinger) June 24, 2016
@realDonaldTrump Scotland voted IN you moron

— lily (@lilyallen) June 24, 2016
Um, two things: 1) Scotland voted to remain, not leave, so now it may break from Britain. 2) Stick to playing golf. https://t.co/9QMn4zCc0B

— George Takei (@GeorgeTakei) June 24, 2016